Detta evenemang har varit.
Open Club: Eurodisco | Sydskånska Nationen
17 september 2022 @ 22:00

-

02:00

60 sek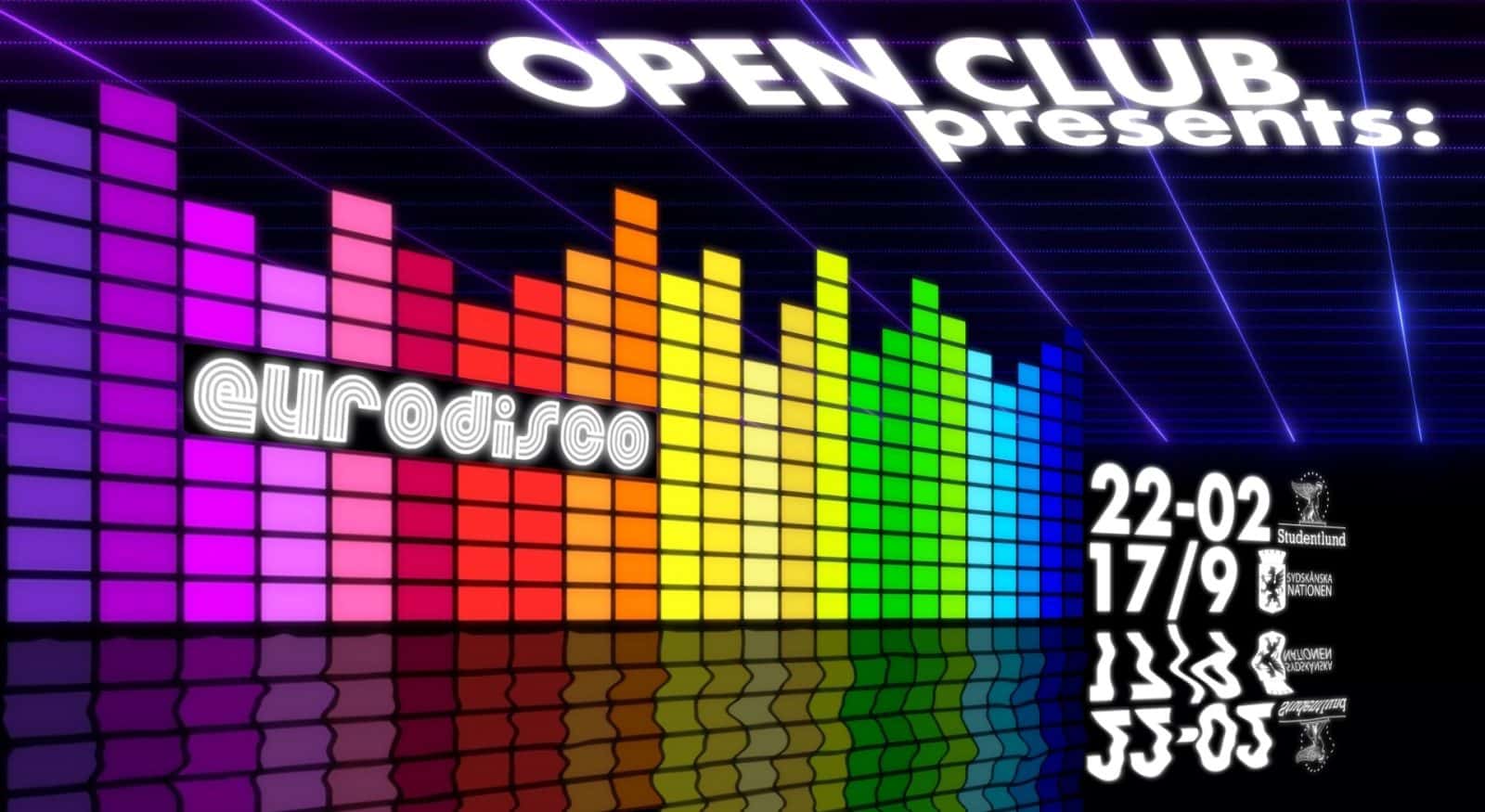 Sydskånska Nationens Eurodisco-klubb är tillbaka! Gör er redo för en "Tonight is the night" med "No Limit" för att riktigt känna "The Rymth of the Night"!
Kvällens musik är en riktig nostalgitripp till 90/00-tals stökiga dansmusik som kommer få alla att hoppa!
DJ Flöde utlovar den härligaste mixen för kvällen. Han tog sina första steg på SSK, har spelat stora event som Skvalborg och efter att ha spelat på andra nationsklubbar, i Malmö och Köpenhamn så återvänder han till SSK för en kväll!
❃ VAR? Sydskånska nationen
❃ NÄR? Lördag den 17 september
❃ VEM? 18 år + Studentleg
❃ ENTRÉ? 60 kr, 50% för medlemmar av Sydskånska Nationen
Glöm inte ID +student ID! Vi ses på dansgolvet!
Undrar du vad Open Club är? Det är Sydskånskas klubbkoncept som står för de där speciella temaklubbarna som du kanske bara får en chans att besöka. Så håll utskik efter de kommande Open Club-eventen – vi lovar att de kommer bli maxade!
___________________
Sydskånska Nation's Eurodisco club is back! Be ready for a "Tonight is the night" with "No Limit" to really feel "The Rymth of the Night".
The evening's music is a real nostalgia trip to 90s/00s rowdy dance music that will make everyone jump!
DJ Flöde promises the most powerful mix for the evening. He took his first steps at SSK, also played Skvalborg and after playing at other studentclubs, in Malmö and Copenhagen, he returns to SSK for one evening!
❃ WHERE? The South Scanian nation
❃ WHEN? Saturday, September 17
❃ WHO? 18 years + Student Leg
❃ ENTRANCE? SEK 60, 50% for members
Don't forget ID + student ID! See you on the dance floor!
Wondering what Open Club is? It is Sydskånska's club concept for those special themed clubs that you may only get a chance to go to once. So stay tuned for the upcoming Open Club events. We promise they will be maxed out!
Relaterade Evenemang