Detta evenemang har varit.
Soffkampanjen HT22 – Let a student sleep on your couch!
6 juli 2022
|
Återkommande Evenemang
(Se alla)
Ett evenemang var 1 dag som börjar kl. 04:00, och upprepas till 15 augusti 2022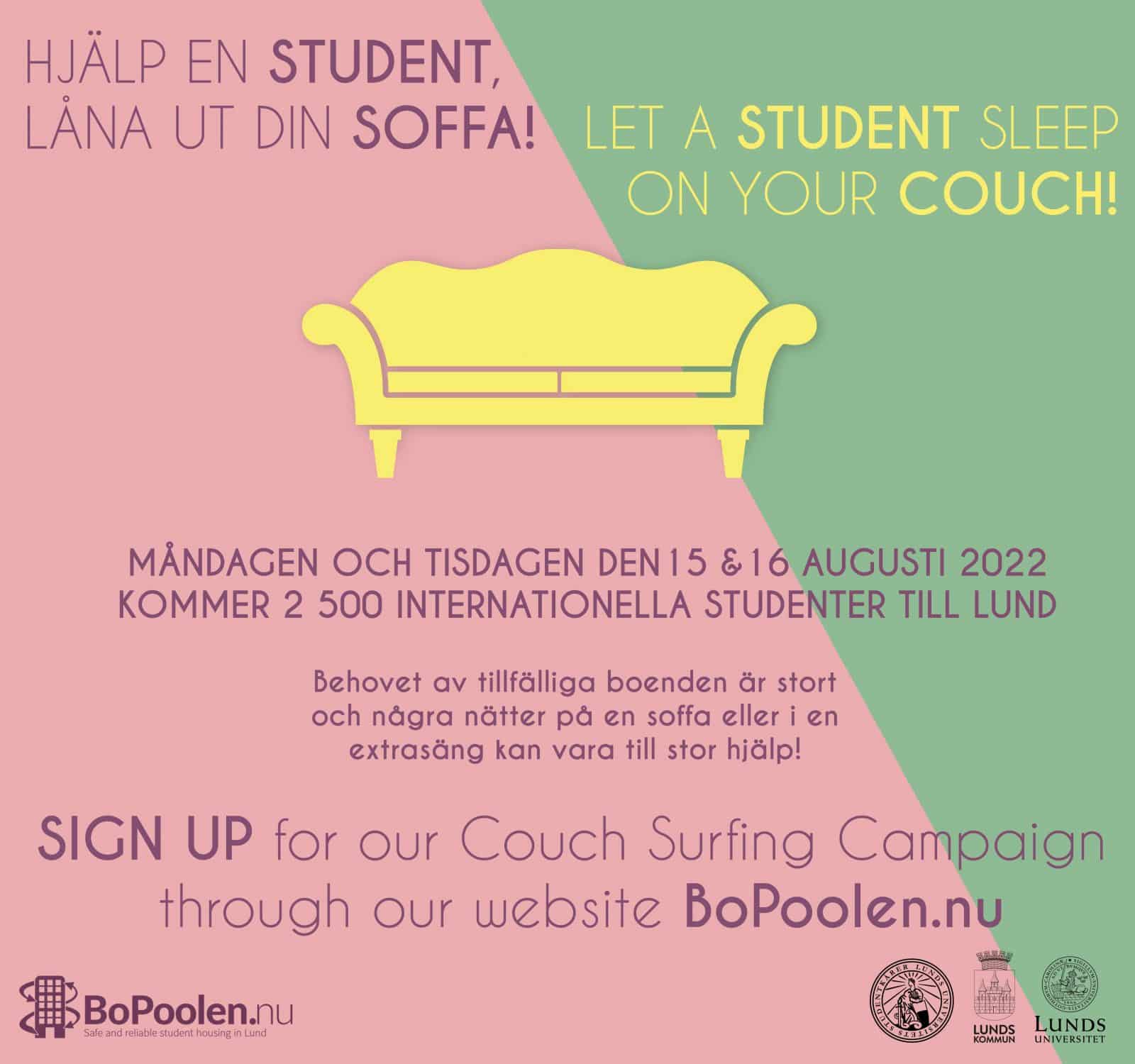 Nu drar BoPoolen igång årets Soffkampanj inför höstterminstarten 2022!
Måndagen och tisdagen den 15 & 16 augusti 2022 är det åter dags för Lunds universitets Arrival Days, vilket innebär att ca 2500 internationella studenter anländer till Lund inför höstterminen. Många letar fortfarande bostad och vissa får tillgång till sina boenden först någon vecka efter ankomsten. Det finns därför ett behov för tillfälliga boenden och några nätter på en soffa eller i en extrasäng kan vara till stor hjälp.
Under Arrival Days och dagarna efter kommer vi att förmedla dem till en behövande student.
~~~
ENG
BoPoolen is now kicking off this year's Couch Surfing Campaign!
Arrival Days at Lund University takes place on Monday and Tuesday August 15th & 16th 2022. These are the days when most international students arrive in Lund. Many students are still looking for a place to stay and others don't get access to their accommodation until a couple of days or weeks after their arrival. This means that there is a need for temporary accommodation.
If you are willing to make your couch, spare room or a mattress available to a student for a couple of nights, please fill in your contact information via this link:
https://forms.gle/tAfXeAAq3wb5EHd46
During Arrival Days and the following days we will give your contact information to a student in need of temporary housing