Detta evenemang har varit.
SKVALBORG 2022 | Sydskånska Nationen x Backyard Sessions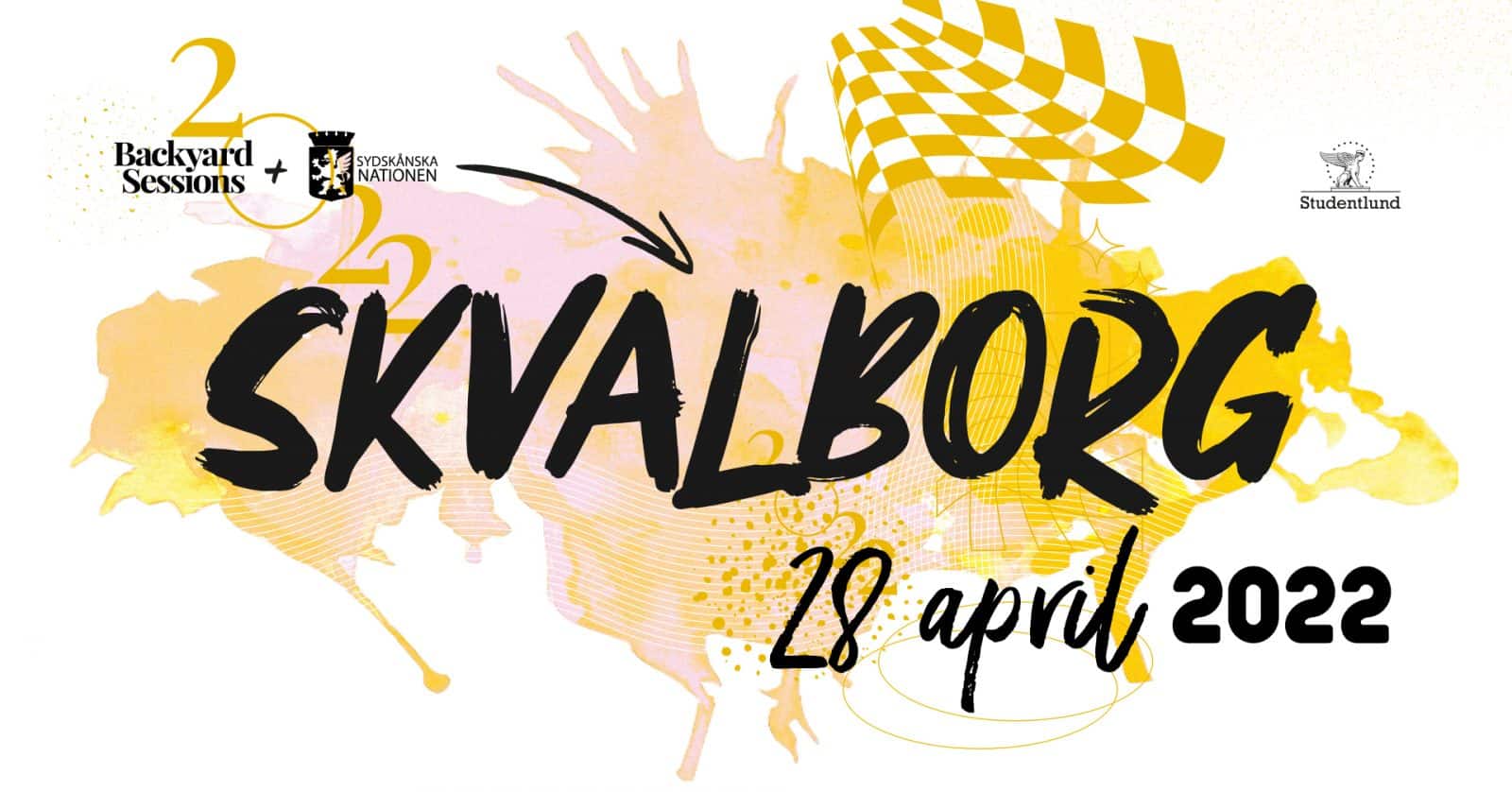 SYDSKÅNSKA NATIONEN 
 BACKYARD SESSIONS
(English below)
Två tunga år har passerat och satt käppar i hjulen för oss alla… MEN NU kan vi äntligen blicka framåt och fokusera mot Sydskånska nationens härliga trädgård den 28 april 2022. Inramad i grönska och med vårsolen i högsta hugg står denna magiska plats dunderredo att återigen välkomna er alla till årets första utomhusdagsfest. Kan det bli bättre?!
Knappast, men trots allt är svaret på ovanstående fråga faktiskt JA! För i år har vi återupptagit samarbetet med våra finaste vänner från Malmö, nämligen BACKYARD SESSIONS! Både när det kommer till hjärnor och hjärtan så sägs det ju att två alltid är bättre än en och detta specifika fall är inget undantag. Med de gemensamma krafterna av de kreativa musiksnillena i BACKYARD SESSIONS och Sydskånska Nationens hårt bultande musikhjärta har vi nu gått samman för att skapa en open-air festival med mer krut i än vad Alfred Nobel någonsin hade kunnat uppfinna!
Det är dags för dans helt enkelt.
VAR: Sydskånska Nationens trädgård
NÄR: Den 28 april kl.13-18
FÖR VEM: För medlemmar i Studentlund eller med giltigt gästleg (se nedan)
ENTRÉ: Biljettsläpp (se nedan)
BILJETTER:
Early Bird – SLUT
Ordinarie biljettsläpp – SLUT
ENGLISH:
SYDSKÅNSKA NATIONEN 
 BACKYARD SESSIONS
Two very difficult years have passed and put roadblocks in all our lives … BUT NOW we can finally look ahead and focus on the glorious garden of the Sydskånska Nationen on April 28th, 2022. Framed in trees with the spring sun in full swing, this magical place stands super ready, and once again we welcome everyone to this year's first outdoor day party. Can it get any better?!
Hardly, but after all, the answer to the question aboveis actually YES! Because this year we have resumed the collaboration with our best friends from Malmö, BACKYARD SESSIONS! Both when it comes to brains and hearts, it is said that two are always better than one and this specific case is no exception. With the joint efforts of the creative music geniuses in BACKYARD SESSIONS and the hard-hitting music heart of Sydskånska Nationen, we have now joined forces to create an open-air festival with more gunpowder than Alfred Nobel could ever invent!
Simply, It's time for dance!
WHERE: Sydskånska Nation backyard
WHEN: 28th of April 13.00-18.00
WHO: For members of Studentlund or with a valid guest card (see below)
ENTRANCE: Ticket info down below
TICKETS
Early Bird – SOLD OUT
Regular ticket release – SOLD OUT
Relaterade Evenemang