Detta evenemang har varit.
Penthouse of Horrors | Saturday Club
29 oktober @ 22:30

-

02:00

60 Kr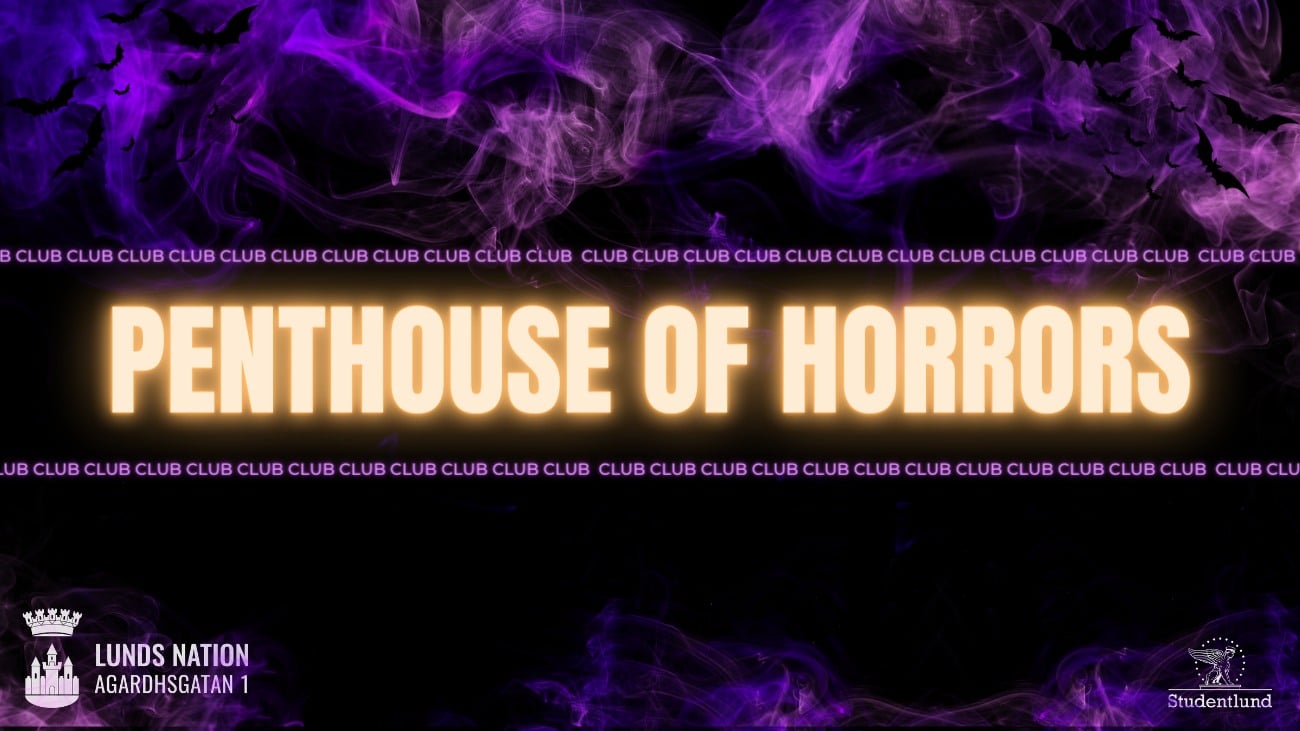 ⇣ English below ⇣
För endast en kväll tas Penthouse över av alla andar som vandrar på Lunds Nation. De har ett mål – en riktigt spöklik natt på klubben.
Penthouse of horrors är Lunds mest hemsökta klubb. Det kommer serveras läskiga drinkar (med och utan alkohol) i baren där du också kan njuta av en oslagbar utsikt över nattens Lund. Vår DJ kommer bjuda på riktigt härlig musik som kommer få dig att vilja dansa tills fötterna gör ont. Men passa dig, vem vet vilka spöken och monster som lurar på dansgolvet?
Klä upp dig i din bästa utklädnad och gör dig redo för en kväll du sent kommer glömma! Låtsasvapen och masker får inte medföras.
Förköp (köföreträde till 23.00) går att köpa på expeditionen på nedervåningen på Agardhsgatan 1, under kontorstider (vardagar 11-13, torsdagar 17-18 och lördagar 13-14).
Glöm inte ID och student-ID!
Vi ses på dansgolvet!
–
For one night only Penthouse is taken over by all of the spirits that roam Lunds Nation. They have one goal – a really spooky night at the club.
Penthouse of horrors is the most haunted club in Lund. We will be serving scary drinks (with and without alcohol) in the bar where you'll also be able to enjoy a view over Lund in the darkness of the night. Our DJ will be playing awesome music that will have you dancing until your feet hurt. But watch your back, you never know what ghosts and monsters might be lurking on the dance floor!
Dress up in your best costumes and get ready for a night you won't forget! Fake weapons and masks are not allowed.
Pre-purchase tickets (queue priority until 23.00) can be purchased at the main office on the ground floor of Agardhsgatan 1 during office hours (weekdays 11-13, Thursdays 17-18 and Saturdays 13-14).
Don't forget ID and Student-ID!
See you on the dance floor!
Relaterade Evenemang