Detta evenemang har varit.
Östgöta Nations Julfest – Fredag 9/12
9 december 2022 @ 18:30

-

22:00

170 kr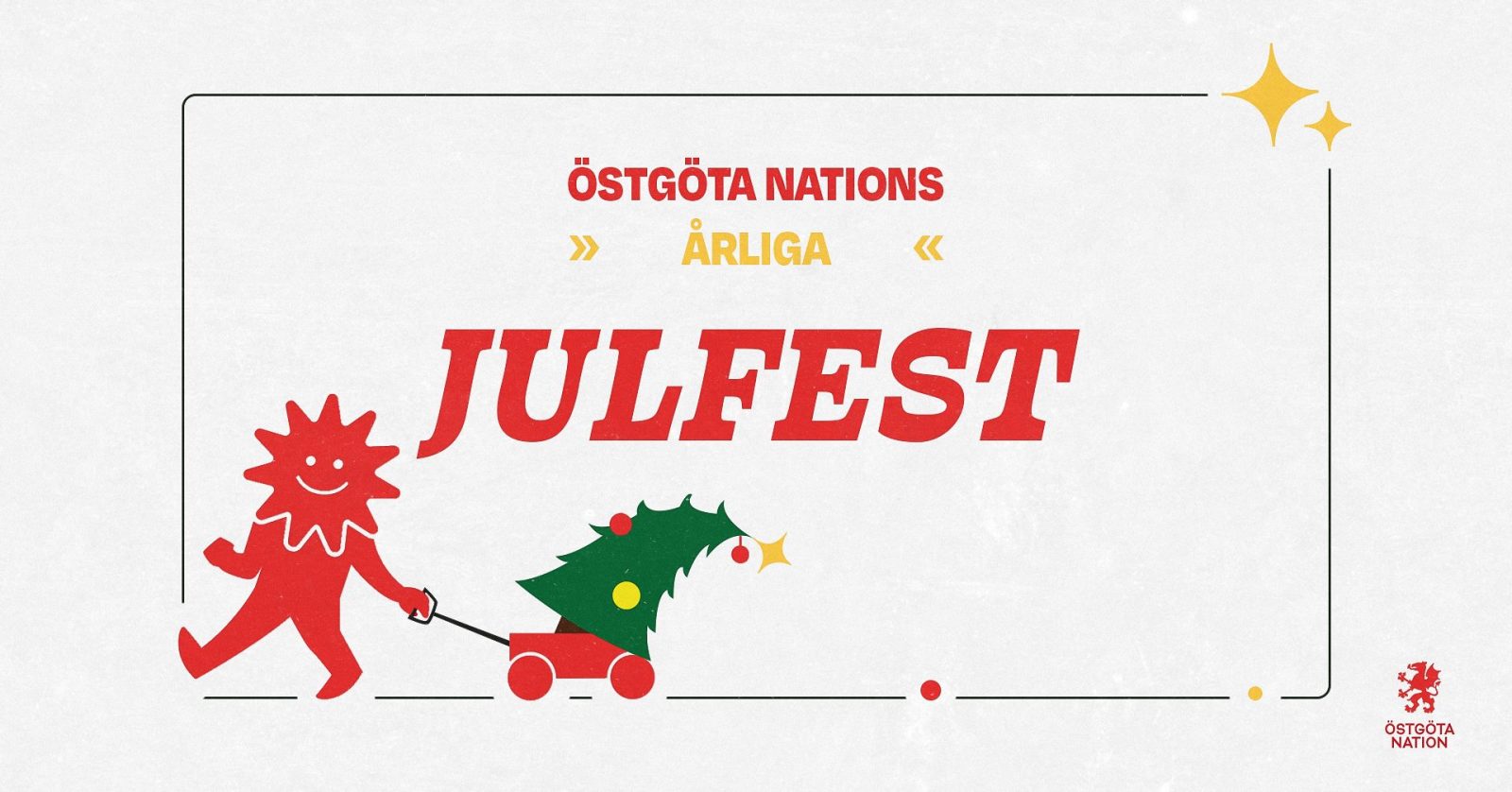 – English below –
*Observera att detta evenemang endast är till för medlemmar i Östgöta nation.*
Äntligen är det dags! Julen närmar sig med stormsteg och vi på Östgöta nation vill därför bjuda in er medlemmar till vår årliga Julfest! Den stackars julfesten har nu i flera år behövts ställas in på grund av pandemin, men äntligen får vi avsluta terminen på bästa möjliga sätt igen.
Årets mysigaste kväll kommer bjuda på julbord, en massa sång, utdelning av priser samt förtjänstmedaljer, dans runt "granen", och kanske till och med ett litet besök från tomten! Vi ska även tacka av vår avgående Qurator Sara Forghani Eklund och ProQurator Ekonomi Gustaf Mannerstam.
Tid: 18.30
Klädsel: Mörk kostym, gärna med en jultvist
Priser:
Utan alkoholpaket 170 kr
Med alkoholpaket 250 kr
Förtjänstemedalj Gripen 100 kr
Anmälan sker i formuläret nedan, och genom att betala när bekräftelse inkommit. Sista dagen att anmäla sig och lägga sin betalning är söndagen den 4/12. Betalning kan ske genom swish till 123 389 39 55, eller via bankgiro 127-9033.
Hoppas vi ses den 9 december!
–
*Observe this event is only for members of Östgöta nation.*
It is finally time! Christmas is closing in and we at Östgöta nation would like to invite you members to our annual Christmas party! The poor Christmas party has been cancelled several years now due to the pandemic, but we can finally end the term the proper way again!
The coziest night of the year will contain a Christmas buffé, a ton of singing, prizes and medal distribution, dancing round the "Christmas tree", and maybe even a visit from Santa! We are also thanking our Qurator Sara Forghani Eklund and ProQurator Ekonomi Gustaf Mannerstam for their year and dedication.
Time: 18.30
Dresscode: Dark suit, preferably with a Christmas twist
Prices:
Without alcohol package: 170 kr
With alcohol package: 250 kr
Förtjänstemedalj Gripen: 100 kr
Sign up is done through the form below, and by paying when you receive a confirmation. The last day to sign up and place your payment is Sunday the 4th of December. Payment can be made through swish to 123 389 39 55, bankgiro 127-9033, IBAN: SE64 8000 0831 3907 4113 2021, BIC: SWEDSESS.
We hope we see you on the 9th of December!
Relaterade Evenemang