Detta evenemang har varit.
Open Club: Musikrevolution x Svensk pop | Sydskånska Nationen
19 november @ 22:00

-

02:00

60 sek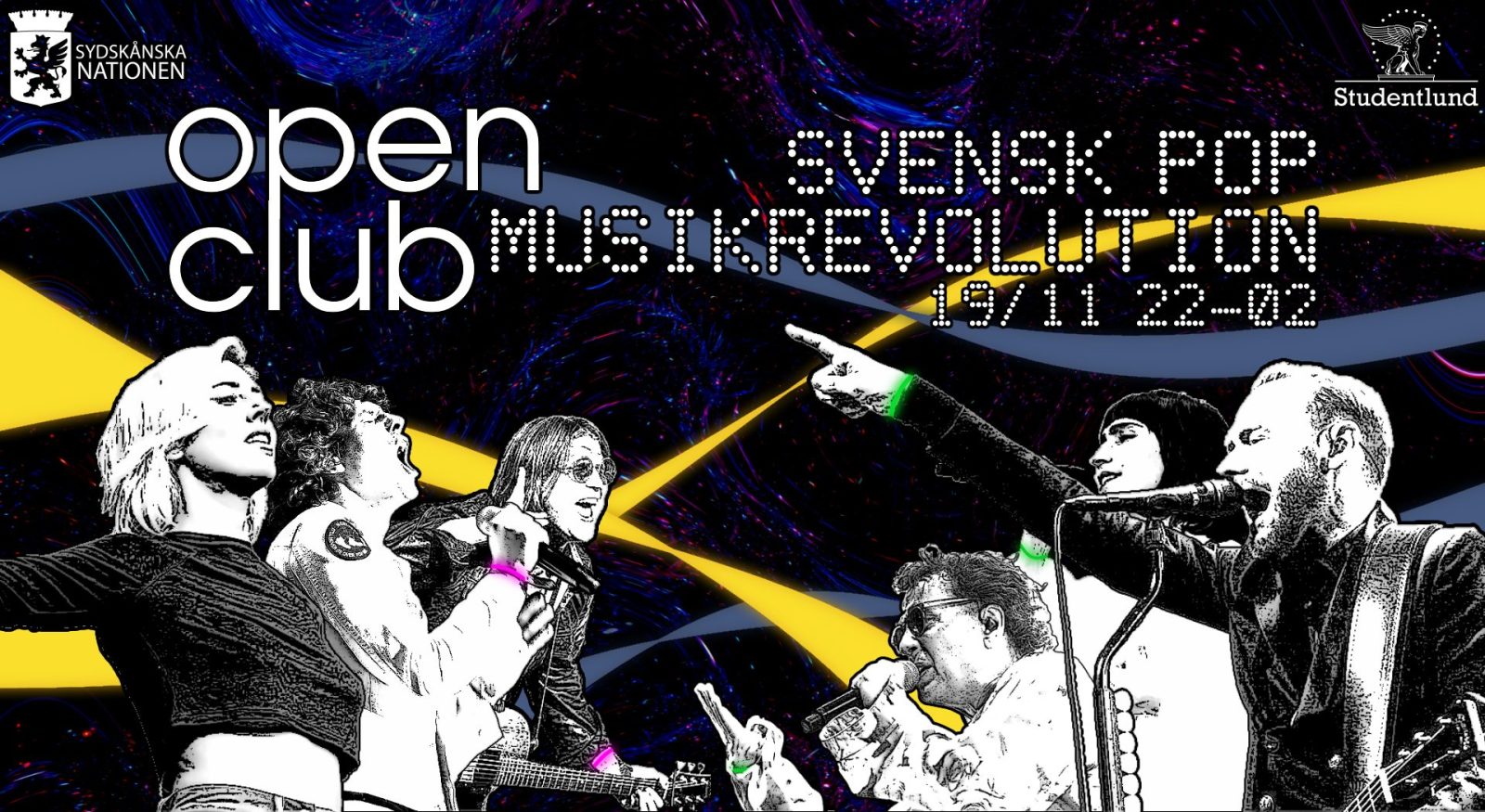 Open Club återvänder till Sydskånskas dansgolv med svensk pop! Sjung med till hits som "Kom Igen Lena!", "Välkommen In" och "Musik Non Stop", eller upptäck vad den svenska musikdjungeln har att erbjuda!
Open Club har dessutom nöjet återupprepa succén Musikrevolution på dansgolvet! Mellan ca. kl. 23-00 utspelar sig denna gång en kamp mellan en skicklig DJ och förmännen om vem som kan SSK:s musiksmak bäst, där publiken röstar vilken låt som ska spelas härnäst!
❃ VAR? Sydskånska Nationen
❃ NÄR? Lördag 19 november
❃ VEM? 18 år + studentleg
❃ ENTRÉ? 60 kr, 50% för medlemmar av Sydskånska Nationen
❃ FÖRKÖP? Köpes på Keyflow, för stora sällskap (10+ personer) hör av dig till pqe@sydskanska.se
Glöm inte ID +student ID! Vi ses på dansgolvet!
Undrar du vad Open Club är? Det är Sydskånskas klubbkoncept som står för de där speciella temaklubbarna som du kanske bara får en chans att besöka. Håll utkik efter kommande Open Club-event – vi lovar att de kommer bli maxade!
___________________
Open Club returns to the Sydskånska dancefloor, this time with the best Swedish pop! Sing along to hits such as "Kom Igen Lena!", "Välkommen In" and "Musik Non Stop", or discover what the Swedish music djungle has to offer!
Open Club once again has the pleasure to present the successful concept Music Revolution to the dance floor! Between approximately 11PM – 12AM, A talented DJ and the foremen will battle it out to see who best knows SSK:s music taste, through a competition where you, the audience, will decide what song comes on next!
❃ WHERE? Sydskånska Nation
❃ WHEN? Saturday October 15th
❃ WHO? 18 years + Student ID
❃ ENTRANCE? SEK 60, 50% for members
❃ PRE-SALE TICKETS? Available on Keyflow, for big groups (more than 10+ persons) contact pqe@sydskanska.se
Don't forget ID + student ID! See you on the dance floor!
Wondering what Open Club is? It is Sydskånska's club concept for those special themed clubs that you may only get the chance to visit once. Stay tuned for upcoming Open Club events – We promise they will be maxed out!
Relaterade Evenemang