Detta evenemang har varit.
Open Club: Musikrevolution (pop och synth) | Sydskånska Nationen
15 oktober @ 22:00

-

02:00

60 sek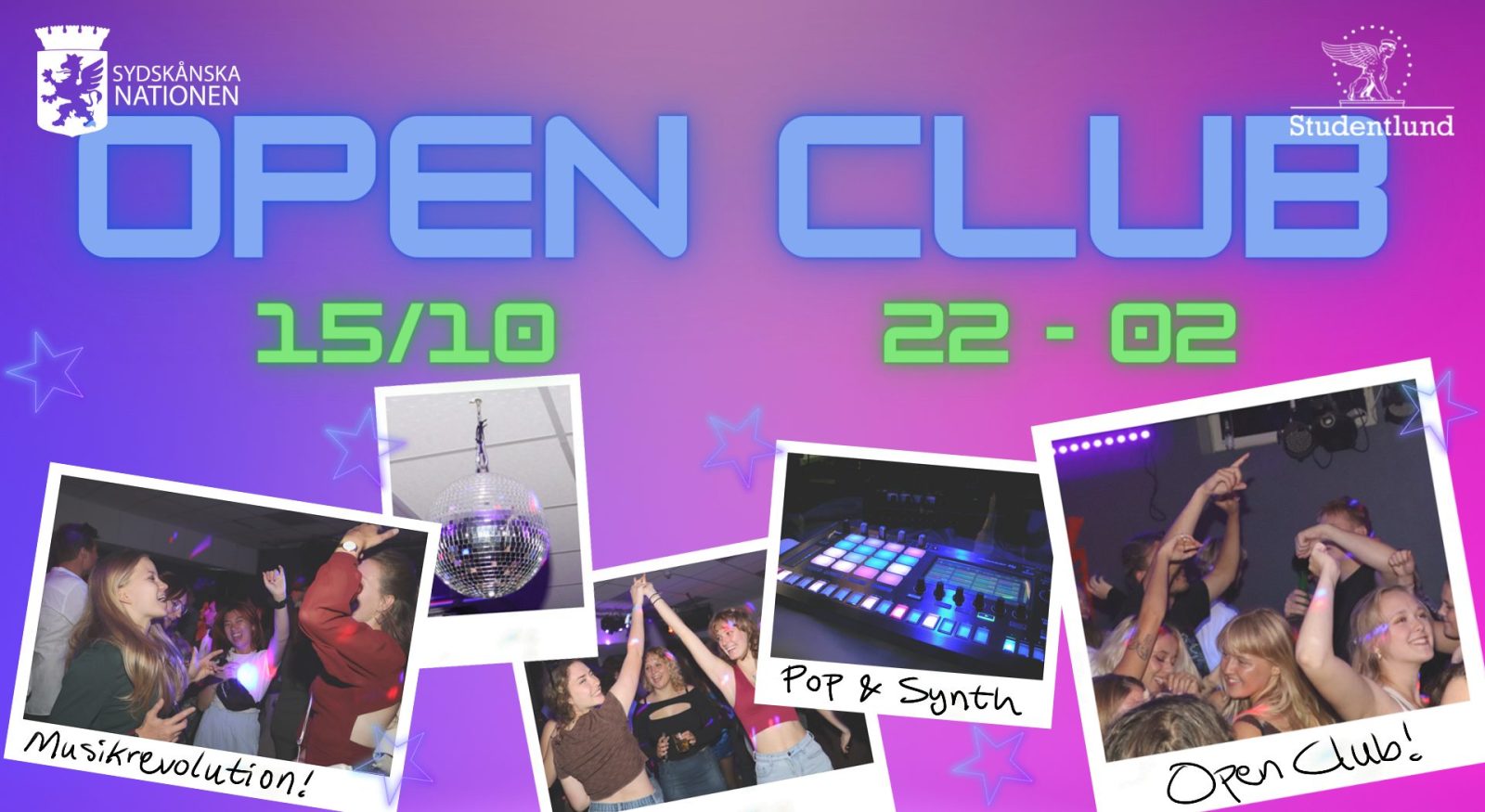 -ENGLISH BELOW-
Open Club återvänder till Sydskånskas dansgolv genom att ta ännu ett steg tillbaka i musikhistorien, då vi denna gång bjuder på svängigaste synth- och popmusiken! "Tainted Love", "Just Can't Get Enough", ja, till och med "Never Gonna Give You Up" är några av låtarna ni kan få komma att höra i neonljuset!
För första gången på Sydskånska Nationen har Open Club dessutom nöjet att få presentera Musikrevolution på dansgolvet! Mellan ca. kl. 23.30-00.30 utspelar sig en kamp mellan två skickliga DJ:s om vem som bäst känner SSK:s musiksmak, genom en tävling där ni i publiken får makt att bestämma vad som spelas härnäst!
Bakom mixerbordet finner vi under kvällen DJ Not Not Hot, en dynamisk duo som utlovar en elektrifierande känsla på dansgolven. Deras delade erfarenheter från återkommande spelningar på både SSK och Blekingska nationen garanterar
en fantastisk kväll!
❃ VAR? Sydskånska Nationen
❃ NÄR? Lördag den 15 oktober
❃ VEM? 18 år + Studentleg
❃ ENTRÉ? 60 kr, 50% för medlemmar av Sydskånska Nationen
❃ FÖRKÖP? Köpes på Keyflow, för stora sällskap (10+ personer) hör av dig till pqe@sydskanska.se
Glöm inte ID +student ID! Vi ses på dansgolvet!
Undrar du vad Open Club är? Det är Sydskånskas klubbkoncept som står för de där speciella temaklubbarna som du kanske bara får en chans att besöka. Håll utkik efter kommande Open Club-event – vi lovar att de kommer bli maxade!
___________________
Open Club returns to the Sydskånska dancefloor by taking yet another step back in the history of music, as we this time are treating you to the catchiest synth and pop! "Tainted Love", "Just Can't Get Enough", yes, even "Never Gonna Give You Up" are some of the songs you can expect to hear in the neon lights!
For the first time in the history of Sydskånska Nation, Open Club also has the pleasure of introducing Music Revolution to the dance floor! Between aproximately 23.30PM – 00.30 AM two talented DJ:s will battle it out to see who best knows SSK:s music taste, through a competition where you, the audience, will decide what song comes on next!
Behind the mixing table we will find DJ Not Not Hot, a dynamic duo that promises an electrifying feeling on the dance floor. Their shared experience from recurring gigs at SSK and Blekingska Nation guarantees an amazing night!
❃ WHERE? Sydskånska Nation
❃ WHEN? Saturday, October 15
❃ WHO? 18 years + Student ID
❃ ENTRANCE? SEK 60, 50% for members
❃ PRE-SALE TICKETS? Available on Keyflow, for big groups (more than 10+ persons) contact pqe@sydskanska.se
Don't forget ID + student ID! See you on the dance floor!
Wondering what Open Club is? It is Sydskånska's club concept for those special themed clubs that you may only get the chance to visit once. Stay tuned for upcoming Open Club events – We promise they will be maxed out!
Relaterade Evenemang