Foxen x Klubb Kadaver | Sydskånska Nationen
28 januari @ 22:00

-

02:00

60 sek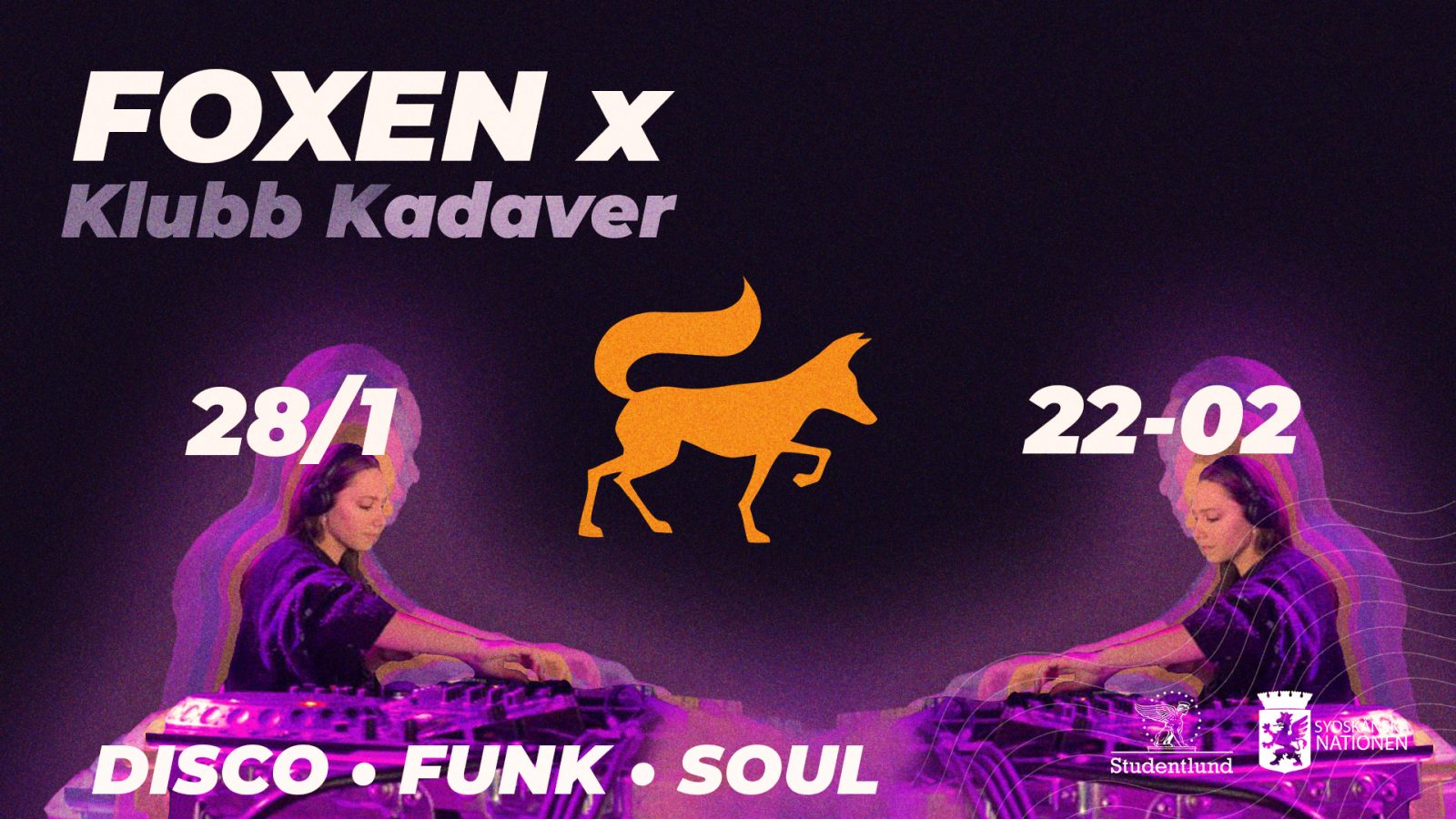 Nu händer det igen!
Hade du oturen att missa lunds bästa och funkigaste klubb sist, oroa dig inte.
Kom till FOXEN och dansa er lyckliga denna kväll, då vi välkomnar Lunds okrönta disco queen, Klubb Kadaver, tillbaka på hennes tron! Med många lyckade spelningar med fullt dansgolv i sitt bagage är Klubb Kadaver en riktig veteran hos FOXEN och vi otroligt stolta över att ha henne hos oss igen!
Glöm dina studier och sorger och släng dig på cykeln ner till oss på Tornavägen! En glittrande kväll fylld med disco, funk och soul väntar er när Sydskånska nationens legendariska discoklubb slår upp portarna.
Så, vad väntar ni på?
 VAR? Sydskånska Nationen
 NÄR? Lördagen den 28 januari
 TID? 22:00 – 02:00
 VEM? 18+ samt leg och studentleg
 ENTRÈ? 60 kr (30 för medlemmar).
 FÖRKÖP? Keyflow! Större grupper: Maila pqe@sydskanska.se
 HUR? Funky – Foxy – Fantastic
______________________
It's happening again!
Did you happen to miss the best and most groovy club in Lund, do not worry.
Come to FOXEN and dance all night long, to the amazing and talented Klubb kadaver, as she reclaims the throne as the queen of disco. with many successful gigs with full dancefloors under her belt, Klubb Kadaver is a true veteran at FOXEN and we are incredibly proud to welcome her back.
Forget your studies and sorrows and hurry down to us at Tornavägen. A sparkling night filled with disco, funk and soul is waiting for you when Sydskånska Nation's legendary discoclub opens it's gates.
So, what are you waiting for?
 WHERE? Sydskånska Nation
 WHEN? Saturday 28th January
 TIME? 22.00 – 02:00
 WHO? 18 years + ID and student ID
 ENTRANCE? 60 kr (30 kr for members)!
 PRESALE? Keyflow! For larger parties, send an email to pqe@sydskanska.se
 HOW? Funky – Foxy – Fantastic
Relaterade Evenemang