Detta evenemang har varit.
ESN Lund goes to the Louisiana Museum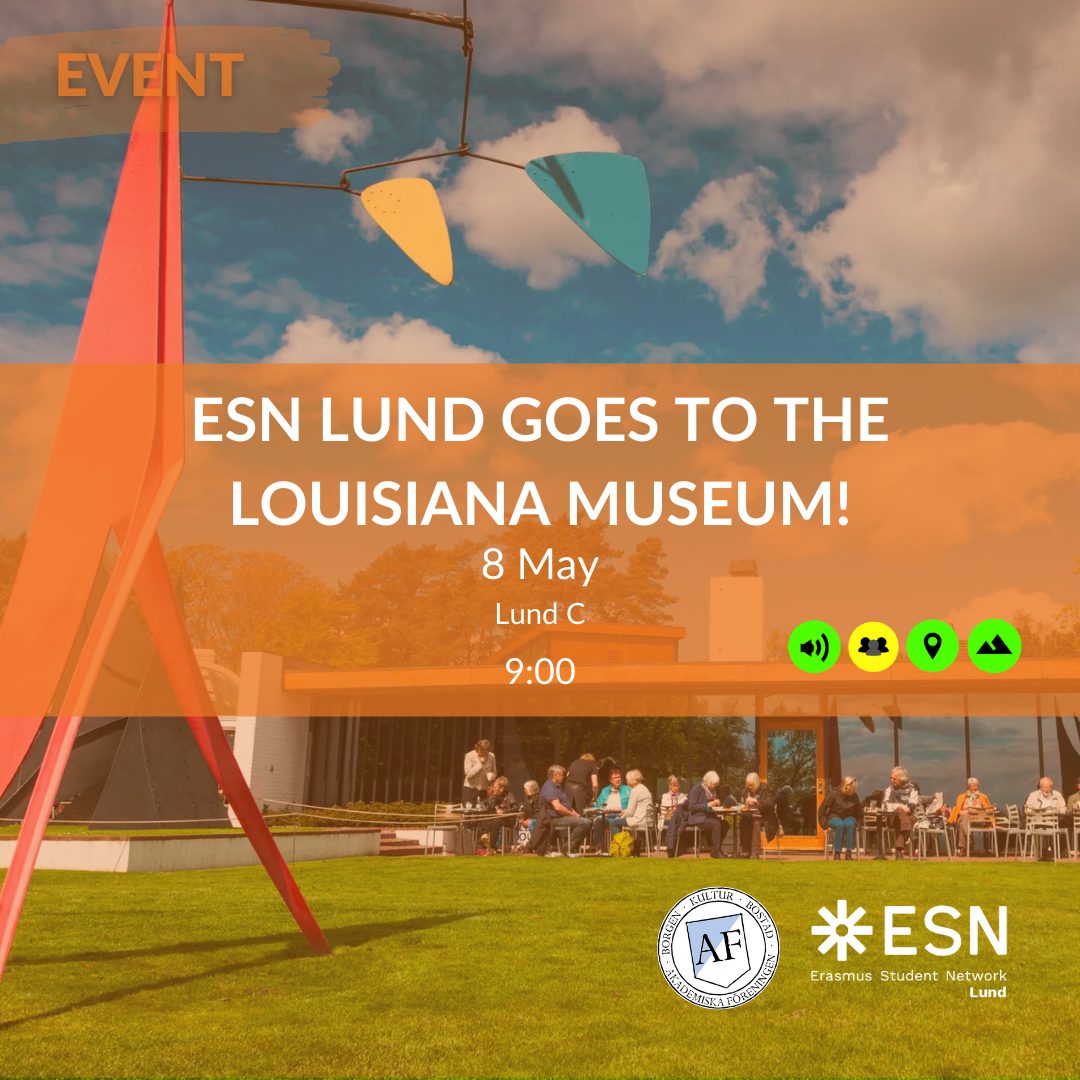 Are you passionate about art? 👀
Then keep reading because this might interest you! 🥳
ESN Lund is organizing this trip for 30 students on the weekend, on Sunday 8th of May. 🤩🤩
📌 Where: Lund C at 9:00am.
🚨 How do I sign up? Sign up in the following list: https://docs.google.com/forms/d/1d3FB4_KQc-aUMnUXYOR8HGvrCAxkyHtMmUAytR5u-QE
💸 How much will this be?
🚨 You need to ✨pay✨ for ✨your own train tickets✨. It costs 288 SEK (or 230,40 SEK) with Skånetrafiken (valid for 24 hours). A student ticket valid for 24h costs 288 SEK. But with the -20% group discount (valid since you're 2 travelling together) it's cheaper (230,40 SEK)!
🚨 Regarding the museum, since we will be a group of students, the tickets will cost DKK 130 individually. ESN members will have a 30% discount (91DKK, approximately 126.97SEK).
🚨 Where do I pay for the ticket for the museum? You can come to the ESN office and pay with cash or Swish.
🚨 Where is the ESN Office? The ESN Lund office is in AF Building on the 4th floor. https://goo.gl/maps/swxSDnAEpsCpxcmz6
Schedule:
👉🏻 We will take the train that leaves at 9:22.
👉🏻 We will arrive at Louisiana Museum at 10:56.
👉🏻 End? Whenever you feel like it!
You will have some time to find your way to the museum, visit it as well, and maybe have something to eat at the food court inside. What could be better than a picnic in the sun after a morning of culture?
Still don't know what Louisiana Museum is?
🚨 Louisiana is considered a major work of Danish modernist architecture. In the well-balanced style of the late 1950's discreet modernism, the museum presents itself as a horizontal and understated building complex that fits gracefully and intimately into the landscape.
A walk in the Sculpture Park is an essential part of the Louisiana experience year-round. This is where
you meet panoramic views of the Sound and can really see how the buildings blend into the
landscape. You can also explore, get lost, and find calm."
Feel free to explore the area! There are different departures from Louisiana to Lund…many options that you can check!
What else can you do in the region?
👉🏻 Visit Helsingor (DK)!
On the way back to Lund, you can also stop in Elsinore to visit this small twin town of Sweden's Helsingborg, from which it is separated by the Øresund Strait.
👉🏻 Kronborg Castle
The tickets cost DKK 135 by showing a valid student ID (around 187 SEK) per person. The most
imposing building in Scandinavia, it is the setting for the story of Hamlet, one of William
Shakespeare's most famous tragedies.
📌 Disclaimer: Please note that students are not under the responsibility of ESN. Non-European students should thus notice that the Louisiana Museum is not
in Sweden.
Want to know more? 🤔
Of the Louisiana museum: https://louisiana.dk/en/
Of the current exhibitions: https://louisiana.dk/en/exhibitions/current/
Of the Kronborg Castle: http://kongeligeslotte.dk/en/palaces-and-gardens/kronborg-castle/visit-
kronborg-castle/tickets-to-kronborg-castle.html
We hope to see you there!
—————————
ESN Lund is a recognized association within the academic society (www.af.lu.se)
Relaterade Evenemang