EFTERSLÄPP – SNAPPHANEFESTEN 2023
26 februari @ 01:00

-

04:00

100 Kr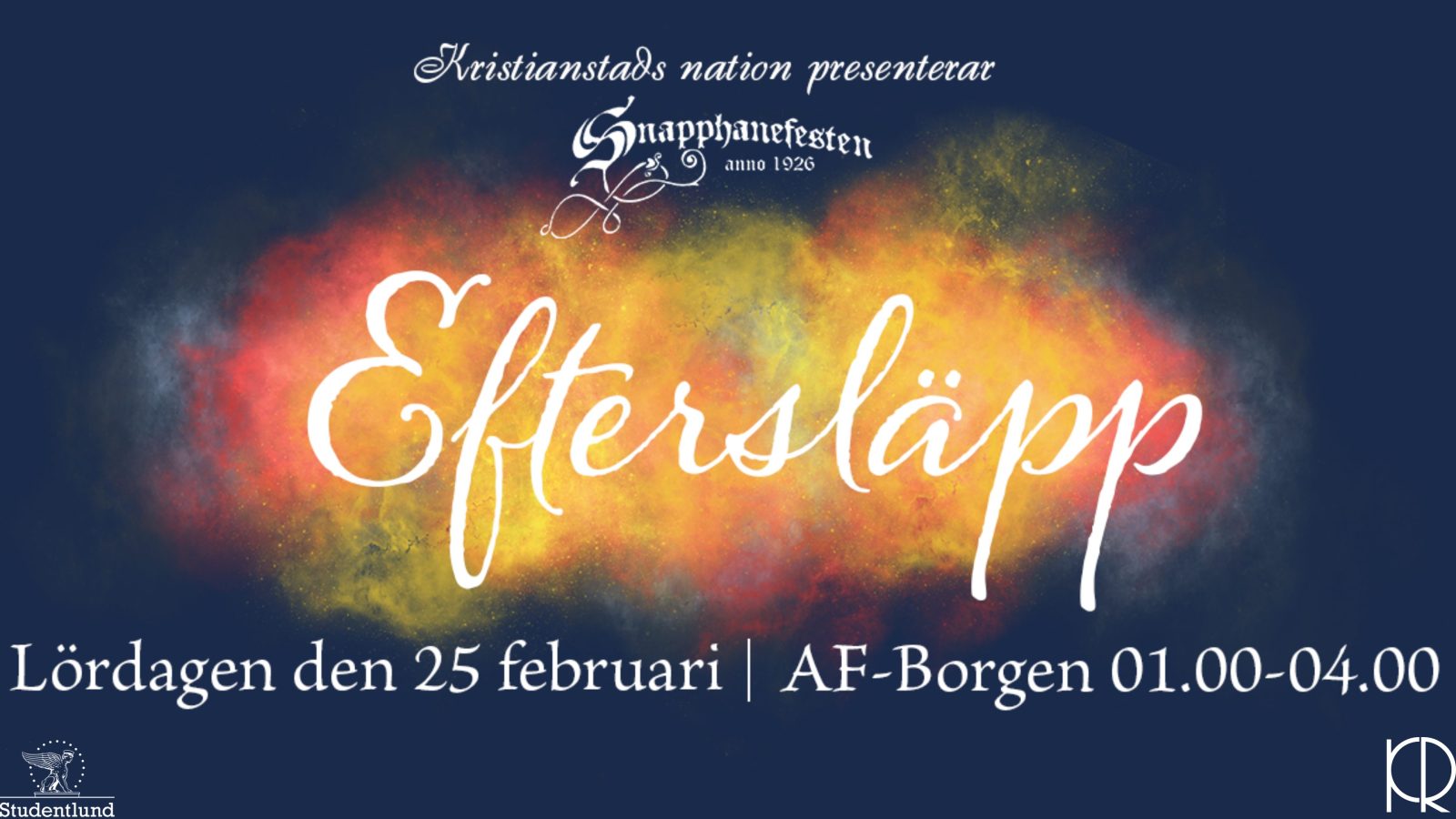 Den 25 februari 2023 är det äntligen dags för Kristianstads nations bal, Snapphanefesten, att ta plats på AF-borgen i Lund. Missade du att anmäla dig? Du har fortfarande chansen att få uppleva terminens första och bästa eftersläpp! 
01.00 öppnar vi upp dörrarna till Stora salen, där du får njuta av både liveband och DJ ända till 04! 
Var: AF-borgen
När: 01.00-04.00
Klädkod: Mörk kostym eller högtidsdräkt.
Priset är 100kr och du kan köpa biljetter antingen på Keyflow eller i dörren, men notera att keyflowbiljetterna ger köföreträde den första halvtimmen.
OSB: Kristianstads nations medlemmar får gratis inträde!
Vi ses i vimlet!
— — — 
On the 25th of February 2023 it's finally time for Kristianstads nations ball, Snapphanefesten, at AF-borgen! Did you miss registering for the dinner? Don't worry, you still have the chance to be a part of the semester's first and best ball after party!
At 01.00 we open the doors to Stora salen, where you can enjoy both a live band and a 
DJ until 04!
Where: AF Borgen
When: 01.00-04.00
Dress code: Dark suit or formal wear.
The tickets are 100kr and you can buy tickets either on Keyflow or at the door, but note that keyflow tickets lets you skip the queue for the first half hour.
OSB: Free of charge for members of Kristianstads nation!
See you in the crowd!