AVANTI goes BERLIN!
17 december @ 22:00

-

02:00

|

Återkommande Evenemang

(Se alla)

Ett evenemang var 2 vecka/veckor som börjar 22:00 på lördag, upprepas till 17 december 2022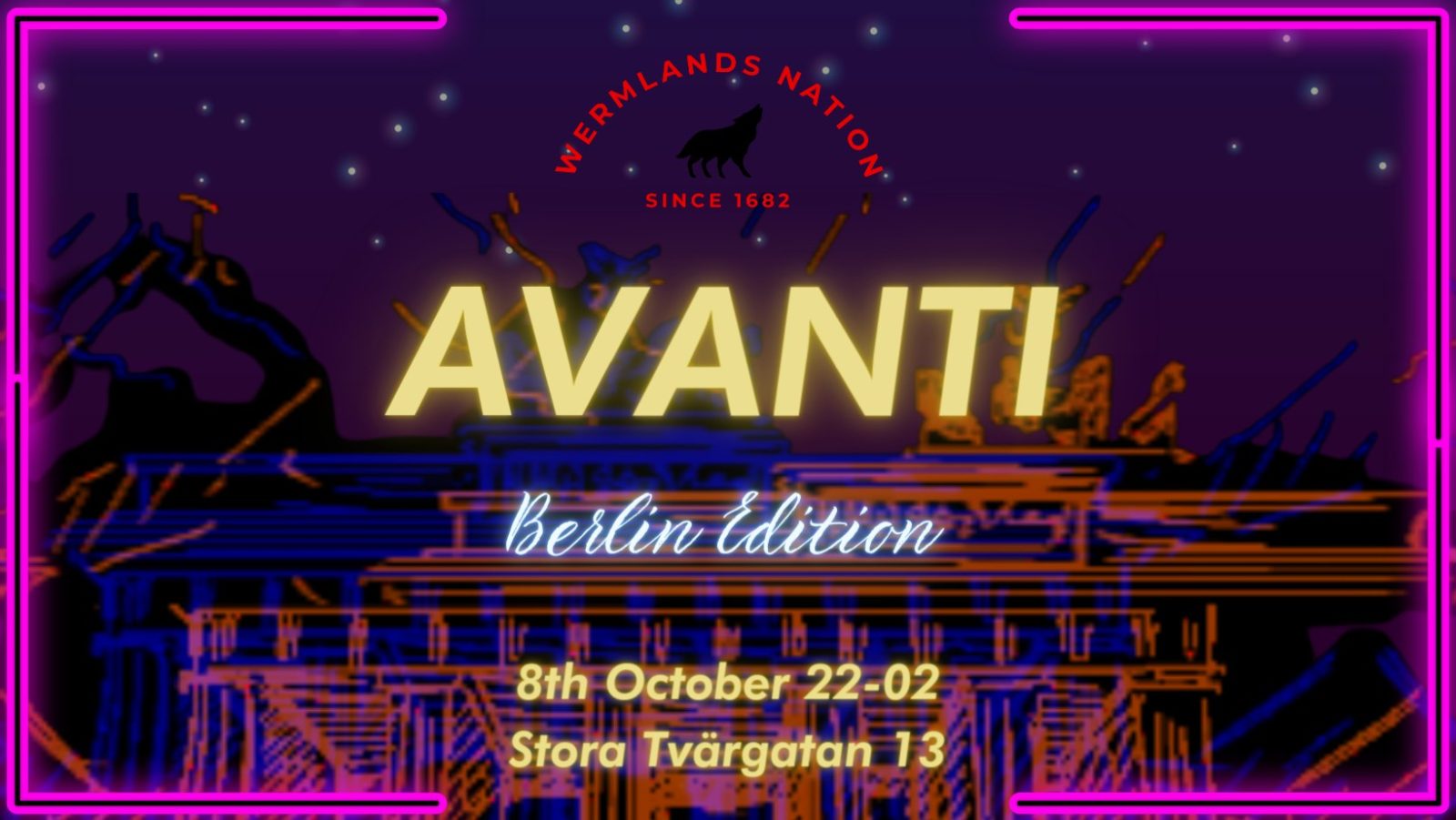 AVANTI är tillbaka!
Avanti öppnar återigen sina dörrar för alla Lunds studenter den här natten drar vi och RAVAR I BERLIN!
Den ultimata studentikos klubben med de bästa fest låtarna man kan sjunga med till och en bas som får huset att skaka.
Följ med oss ut på dansgolvet, blunda, känn musiken vibrera igenom hela din kropp och låt dina problem flyta iväg. Vill du ha en oförglömlig natt är Avanti för dig!
Inatt tar Avanti er till Berlin – Tysk underground Hardstyle kombineras med dansklassiker till det perfekta rave partyt! Kom och dansa hela natten med oss!
Inträde: 60kr
Wermland medlemmar: Gratis
Wermlands Förmän skippar kön!
Glöm inte ID och Student ID
_________________________________
AVANTI IS BACK!
Avanti opens its door once again to the students of Lund and this time were going RAVING IN BERLIN!
The ultimate student club with amazing dance tunes, bass vibrations that make the building shake, and the best party music to sing along to.
So join us on the dancefloor, close your eyes, feel the music echo throughout your body and let your troubles fade away. If you want an unforgettable night, Avanti is for you!
This night Avanti will take you to Berlin – German underground hardstyle tunes will mix in with our sing along friendly party music – Come and rave the night away!
Entrance: 60 kr
Wermland Members: Free
Wermland Foremen skip the queue
Don´t forget your ID and Student ID
Kom in i Wermen!
Relaterade Evenemang