What are you looking for?

Riga Tiger + 2Friends | LIVE Club Indigo
September 30 @ 22:30

-

02:00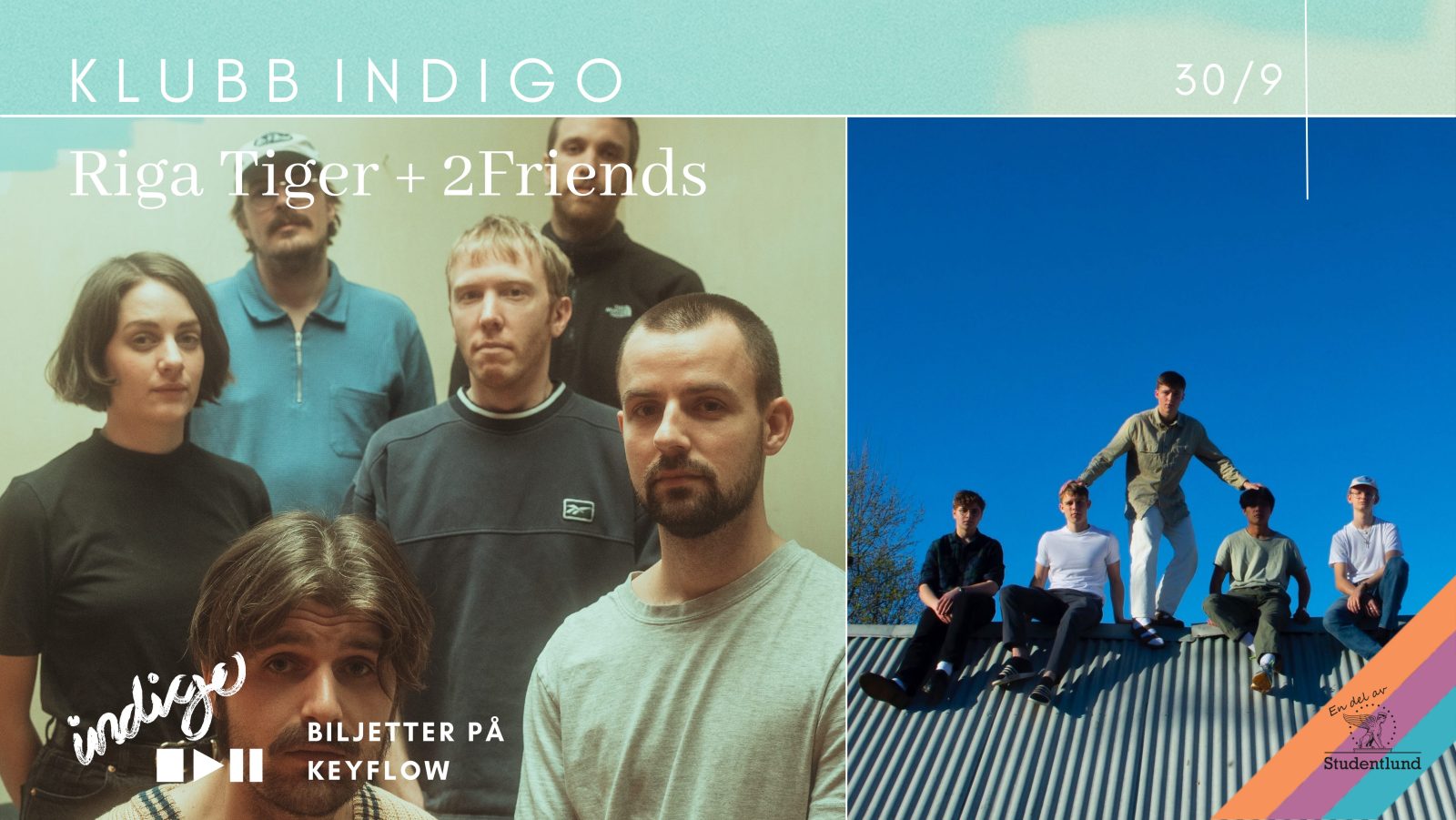 Klubb Indigo can proudly present Riga Tiger! On September 30th, Riga Tiger takes the stage at Blekingska nation for the third time with two previous gigs in 2018 and 2019.
RIGA TIGER
Realism pop has always been Riga Tiger's trademark. The Gothenburg band's music weaves life's big stories together with small observations from everyday life, shimmering synthesizers and bouncy guitar loops, and in those small everyday observations that at first glance seemed insignificant, you can suddenly discern a hint of magic.
Since the debut album "Jag håller inte om din åsikt och är beredd att döda dig för den" (2017), Riga Tiger has made itself an obvious place on Sweden's indie scene. Tributes have hailed from DN, P3, PSL, GAFFA and with sold-out gigs at, among others, the prestigious Pustervik and Debaser in Sthlm, the band has for a long time played to a loyal following. 2022 marked another milestone in the band's career when the album "What are you going to do with your so-called humanity" won the "Pop of the Year" award at the Manifesto Gala. In the fall of 2023, Riga Tiger will be back with a new album via Youth Recordings. Thousands of folk beer connoisseurs can't be wrong: Re-enchant the everyday - listen to Riga Tiger.
BAND: 2Friends
2friends consists of the 5 friends, Arvid Einarsson, James Lu, Edvin Jansson, Arvid Pernrup and Dylan Johansson. During 4 intense years
the indie band has released several songs, merch and built up a loyal following that has contributed to their rapidly growing popularity! In addition to the band's 40,000 listens on Spotify, 2friends is always described as an extremely energetic show band with incredible stage presence. Dancing audience and high pressure is what 2friends stands for! @2friends_band on Instagram
CLUB INDIGO
Indigo is Blekingska's oldest club and since 1994 it has been one of Sweden's foremost music scenes. This is where many of Sweden's biggest pop and rock bands have stood on stage and gilded our club nights. Indigo has always been and still is Lund's obvious scene for indie music.
Where: Blekingska nation, Ole Römers väg 14D.
When: September 30, 22.30-02.00
Price:
80 SEK for Blekingska members
100 kr for Studentlund members
(Studentlund membership required)
TICKETS AVAILABLE ON KEYFLOW
https://www.keyflow.com/en/events/77646/lund/blekingska-nationen/riga-tiger-live-klubb-indigo
Don't forget your ID and student ID!
Card is Queen! 💚