What are you looking for?

Osignat | LIVE: Johannes Holst, Nodus File och Human non Human | Sydskånska Nationen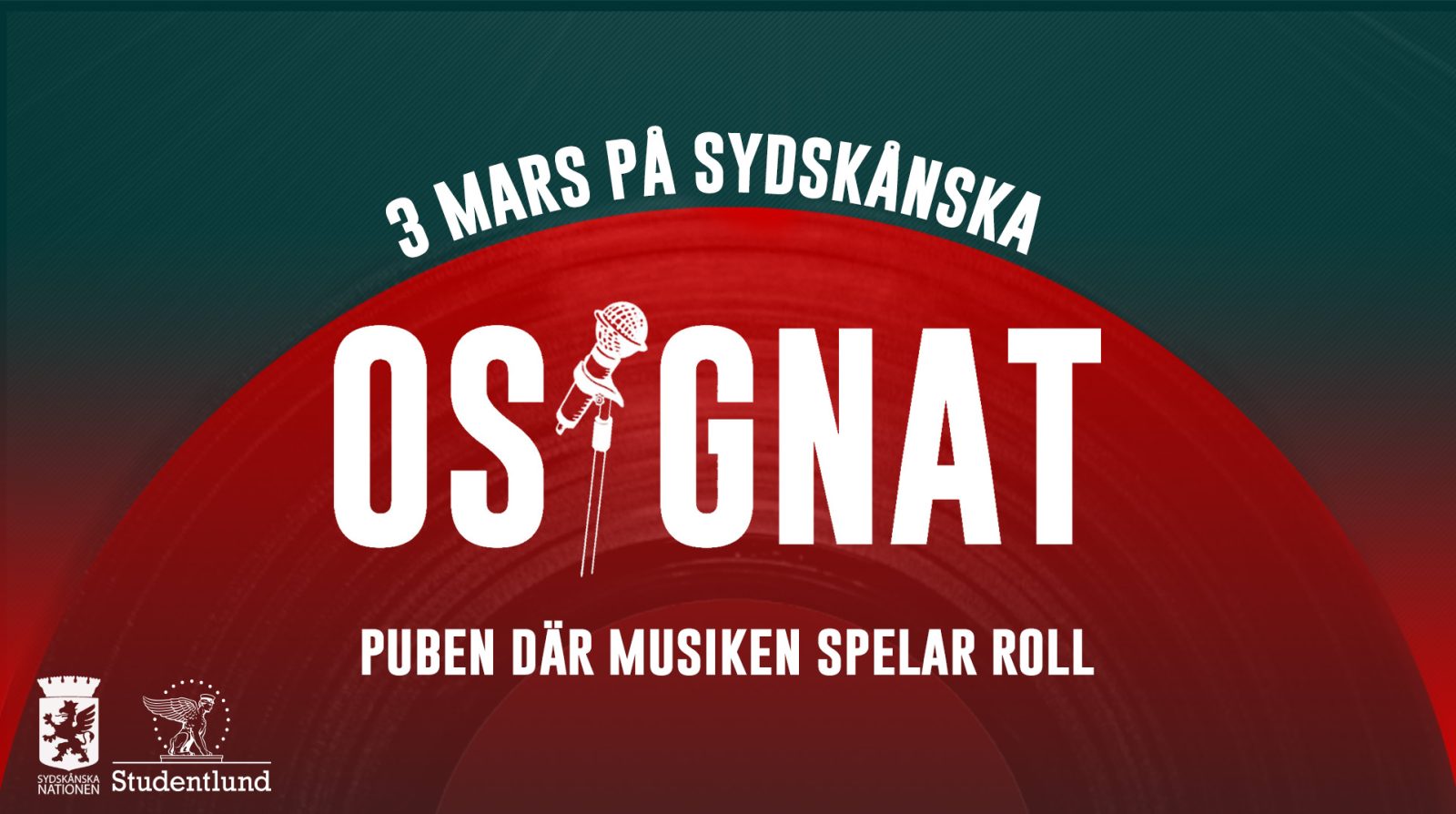 [English below]
Den tredje Mars 18:00 välkomnar vi återigen tillbaka er till Sydskånska nationens live-musik pub Osignat. Under kvällen kommer vi bjuda på tre fantastiska akter som vi vet att du kommer älska!
Osignat är den perfekta förfesten för kvällens klubbande, kom och käka en Banh Mi och ta några öl och njut av bra musik med oss!
[Swedish above]
[Greek below]
On the third of March 18:00 we welcome you back to Sydskånska nation's live music pub Osignat. During the evening we will be offering three fantastic acts that we are sure you will love!
Osignat is the perfect pre-party for the evening's clubbing, come grab a Banh Mi and a few beers and enjoy some great music with us!
[English above]
[Swedish even further above]
Στις 3 Μαρτίου 18:00 σας καλωσορίζουμε ξανά στην παμπ με ζωντανή μουσική του έθνους της Νότιας Σκόνε, την Osignat. Κατά τη διάρκεια της βραδιάς, θα σας προσφέρουμε τρία φανταστικά σχήματα που ξέρουμε ότι θα σας αρέσουν!
Το Osignat είναι το τέλειο pre-party για το βραδινό clubbing, ελάτε να πάρετε ένα Banh Mi και μερικές μπύρες και να απολαύσετε υπέροχη μουσική μαζί μας!
[ACTS]
Johannes Holst:
"Blues with Johannes on piano and vocals"
Nodus File:
"Hey! We are Nodus File, a local Malmö indie rock band. We are a young band of four with influences such as Pixies, The Strokes or Smashing Pumpkins. Our first single "My Room" will be out soon on Spotify! We love playing music that is somewhere between the thunder of rock and the intricacy of indie."
Human non Human:
"En av Malmös nyaste och hetaste akter inom alternativ rock. Bandet har ett unikt sound med 90-tals känslan som kombinerar alternativ rock/metal med funk och rapp.
En grupp med fyra musiker från olika scener och genrer som tillsammans levererar stark scennärvaro och hög energi.
Aktuella med singeln "Cold" kom och fira att vi äntligen blir ett riktigt band.
En energifylld akt som inte får missas! Rocka socka!"
Want to play at the next Osignat? Signup here: https://forms.gle/LGJZ6PczLxJ5tG7r9
Or by sending an email to osignat@sydskanska.se