What are you looking for?

Näste-siste april lekarna 2023
29 april @ 12:00

-

15:00

Free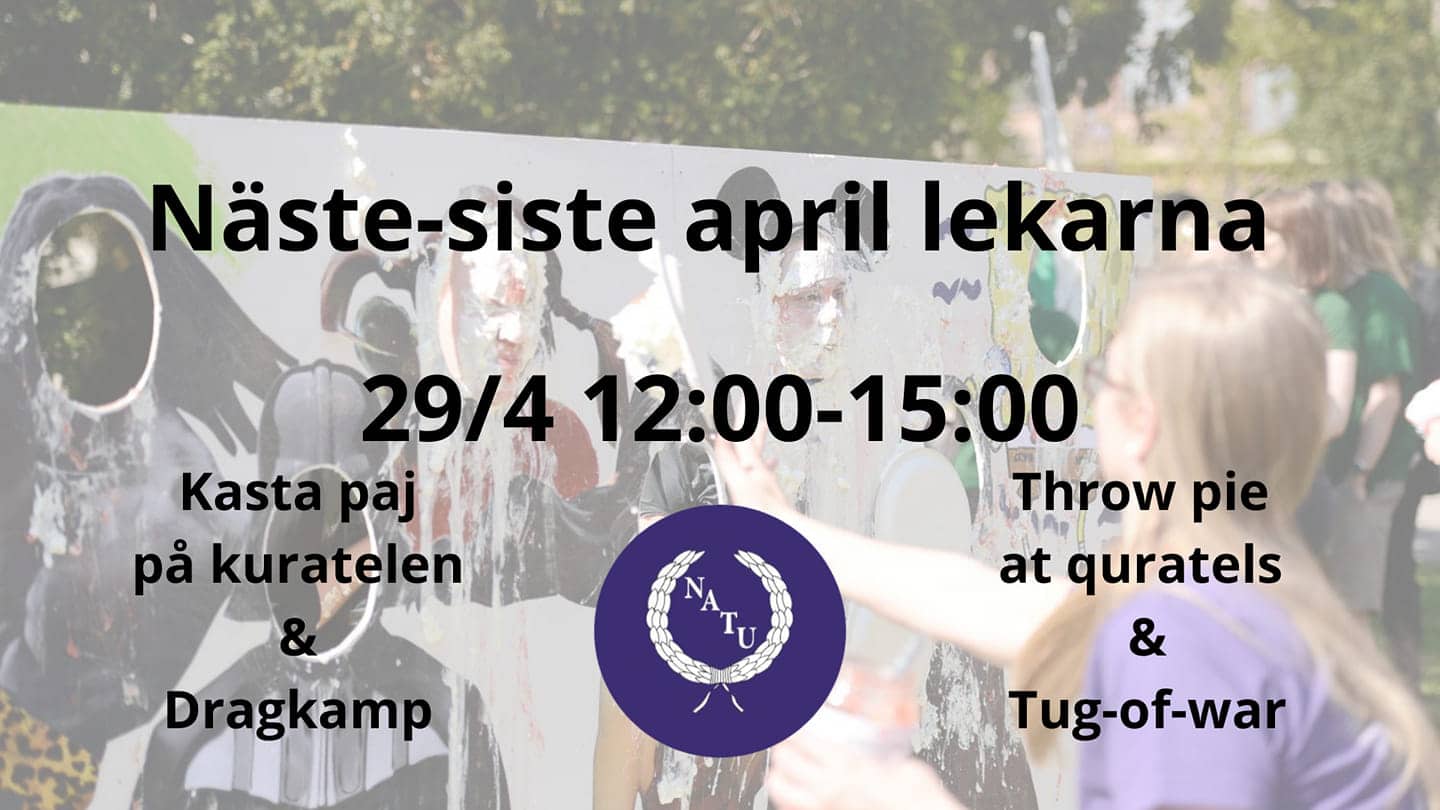 [ENG below]
Nu vår är tillbaka i Lund, och det är snart tid för en av Lundastudentlivets traditioner: Näst-siste april lekarna!
Vad är det? – Vi har två aktiviter;
1: Den årliga chansen för Studentlunds medlemmar att kasta paj i ansiktet på sitt eller andras Kuratel! Det är fritt fram att kasta på vemsomhelst oavsett om det är ditt eget kuratel eller era största rivaler. Ni som deltagit i våra LoL-turneringar kanske vill visa upp er pricksäkerhet IRL med
2: Om du inte är så pricksäker kanske vår Dragkamps turnering mer i din still. Här har ni er chans att visa att er nation är starkast i Lund! Kommer Kalmars fortsätta sin winning-streak eller finns det några kämpar som kan utmana dem?
Du kan anmäla dig här:
https://forms.gle/cgsN2hxGBayXymXk7
.
Var är det? – Traditionsenligt Lundagård men är inte traditioner till för att brytas? Hålla koll i eventet för att se den slutgiltiga platsen!
Vem får komma? – Alla studentlundsmedlemmar oavsett tidigare nations arrangemang. The more the merrier! Schema kommer publiceras när det börjar närma sig.
Alla vi från NATU-kollegiet välkomnar er med öppna armar att delta. Hur ofta får man egentligen chansen att kasta paj på någon? Kom igen det blir kul!
Vi ses där!
———————————–
Now spring is back in Lund, and it's soon time for one of Lund's traditions: The Next to last April Games!
What is it? – We arrange two activities;
1: The yearly opportunity to throw pies on either your own or other nations Kuratel members faces. It's game on and both your own and your greatest rivals are in the danger zone! Those of you that have participated in our LoL-tournaments might want to show of your aim accuracy IRL
2: If aiming isn't your strong suit, then our Tug-of-wars is a battle your more equipped for! Here's your chance to show that your nation is the strongest of them all! Will Kalmar nation remain the leading champs or are there some brave souls that will break their winning-streak?
You can already sign up here:
https://forms.gle/cgsN2hxGBayXymXk7
.
Where is it? – Traditionally Lundagård but aren't traditions meant to be broken? Keep an eye out in the event to see the final destination of the games!
Who is allowed to join? – All member of Studentlund is welcome no matter how much or none prior engagement in their nation. The more the merrier! The schedule will be posted closer to the date.
All of us from the NATU-committee welcome you with open arms to participate! And how often do you get the chance to throw pie in peoples faces? Come on it will be fun!
See you there!