What are you looking for?

Hike to Ales Stenar
30 oktober 2022 @ 08:30

-

18:00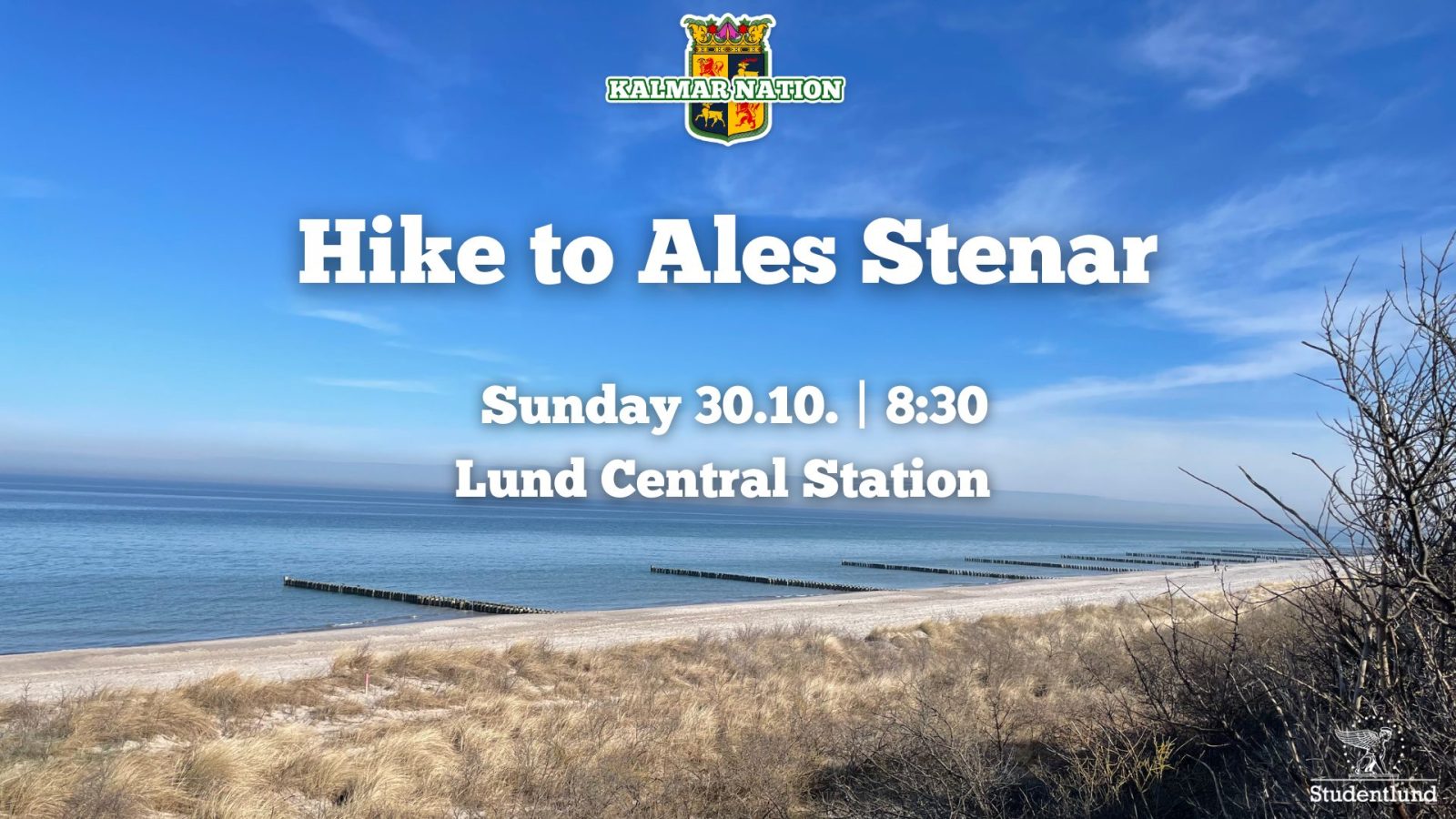 [
 below]
Looking for a thrilling one-day adventure?
Join me for a pre-Halloween hike to the spooky Ales Stenar.
We will also get to swim in the Baltic Sea for the brave and fearless amongst you and hopefully enjoy a beautiful sunset.
Ales Stenar is a megalithic (big stones) monument located in the Southeast not far from Yståd.
It is more than a thousand years old, and its function is still unknown to this day.
Practical info:
– We will meet starting from 8:30 at Lund C and take the 8:52 train towards Simirshamn
– Expected return between 18 and 19
– We will hike along a subsection of SL4 ÖSTERLEN, a trail that goes along the coastline of southeast Skåne
– Swimming is obviously not mandatory
What to bring?
– Water
– Lunch
– Warm and/or waterproof clothing according to weather
– Good shoes
– Buy your own train ticket (25 % discount if you buy in pairs)
– Cards or games for the train if you get bored
– A blanket if you don 't want to spend your lunch break standing and/or freezing
– Coffee or tea if you're looking for a cozy break
– SWIMSUIT + TOWEL if you want to swim
If you have any questions: idrott@kalmarnation.nu
Come as you are 
Har du craving för ett rysande endagsäventyr? Häng med mig på en pre-Halloween-hike till Skånes kusliga Ales stenar. För de som vågar kommer också möjligheten att ta en simtur i Östersjön, och kanske får vi en underbar solnedgång på köpet.
Ales stenar är megaliter (stora stenar) som bildar ett monument i sydöstra Skåne inte långt från Ystad. Monumentet är över tusen år gammalt och varför det byggdes är okänt än idag.
Praktisk info:
– Vi möts på Lund C 08:30 för att ta 08:52-tåget mot Simrishamn
– Förväntas återvända mellan 18-19
– Hiken kommer gå på en del av SL4 Österlen-leden, en stig som går längst med Skånes sydöstra kust.
– Man måste självklart inte bada
What should you bring with you?
– Water
– Lunch
– Warm and waterproof clothes according to the weather
– Good shoes
– Buy your own train ticket (tip: 25% discount if you buy a ticket in a group)
– Card games or other games for the train or if you get bored
– Blanket to sit on or relieve yourself around him if it gets cold
– Coffee or tea for the coffee break
– Swimwear if, against all odds, you actually want to swim in October
Contact idrott@kalmarnation.nu if you have questions!
Come as you Are