What are you looking for?

Battle of the bands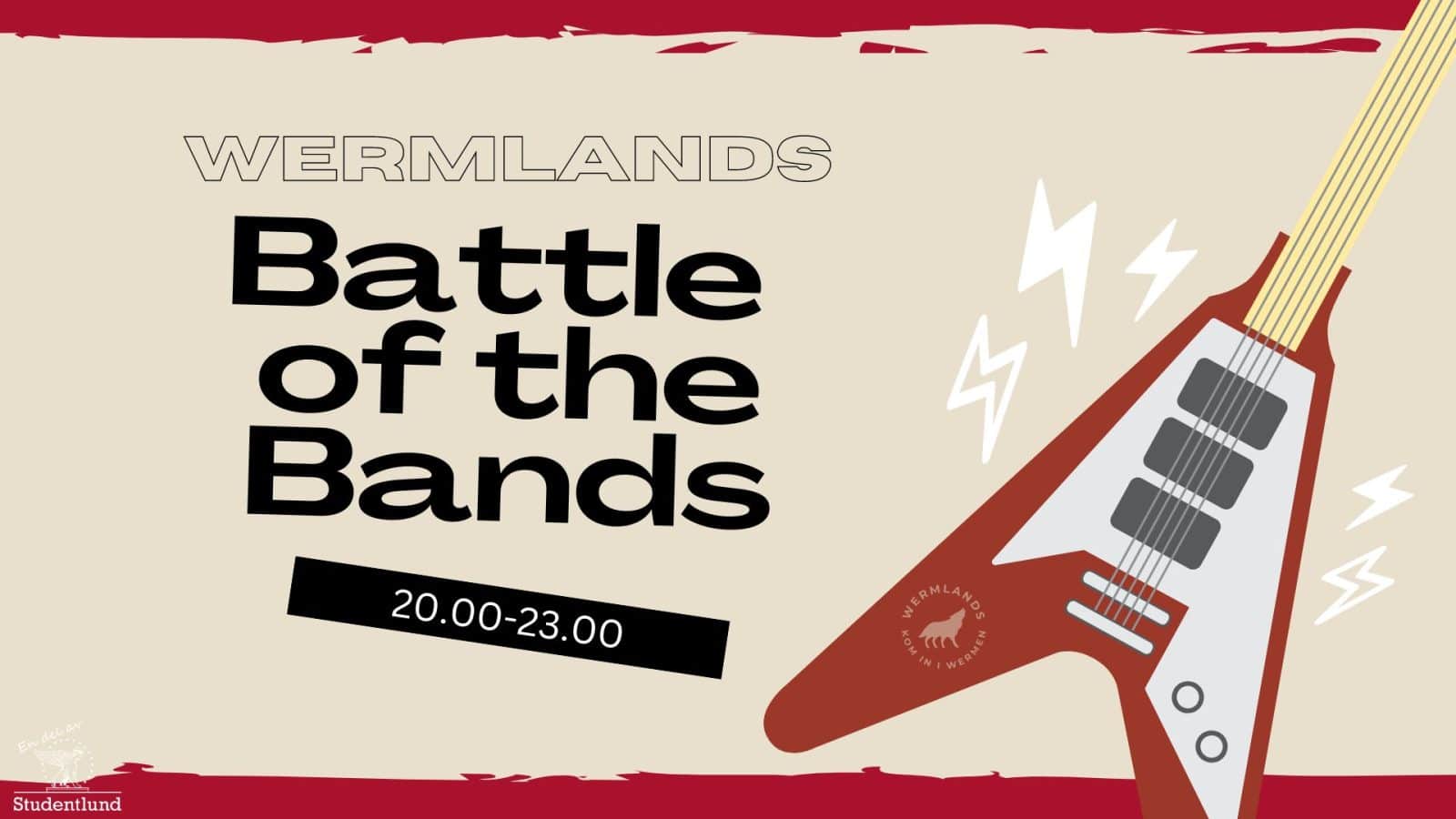 Nu på fredag har Wermlands en otrolig battle of the bands! Vi kommer att ha fyra band på plats som alla kommer att tävla och sen får publiken avgöra vinnaren!
Banden är: 
Eyes Closed
Tidigt 2022 bestämde sig Karlskrona-duon Alvin Karlsson och Simon Thuresson för att grunda sitt nya projekt Eyes Closed tillsammans med Skellefteås Elias Sirviö och Malmös Carl Lindberg.
Med rötter och inspiration från band som Blink-182, Neck Deep och Microwave kastar Eyes Closed in publiken i ungdomsrevolt och rivande pop-punk med en glasyr av en melankolisk och energirik ljudbild. Har du kvar brustna delar av ditt svarta hjärta från din emo-fas? Eyes Closed är här för att plocka upp dem, måla dem med en fräsch lack och bjuda upp till dans.
Utflykten
Utflyktens egenartade gitarrdrivna indiepop-sound andas Skånes själ och hjärta. Med inspiration från band som Weezer, Pavement och Hästpojken skapar Utflykten popmusik med förkärlek för unika melodier och energiska refränger. I sommar släpper de sitt första fullängdsalbum – en dynamisk och kraftfull skapelse framtagen i Skånes källarlokaler. Vänta dig 90-talsgitarrer, mångbottnade texter och 100 procent ös.
Nodus File
Hej svejs! Vi är Nodus File, ett indierockband från Malmö. Vi är ett ungt band som spelar energiska egna låtar med influenser såsom Pixies, the Strokes, Modest Mouse och Sonic Youth, men även äldre klassisk rock. Nyligen släppte vi vår första singel, "My Room", och mer är på gång. Tack!!! 
Nebula Nine 
Skåne/Blekinge-trion Nebula Nine är bandet som hänför publiken med sitt stora sound trots sitt ringa antal medlemmar. Varje låt tar med lyssnaren på en resa som är allt annat än förutsägbar. Trion som i sin ungdom lärde känna varandra genom musiken har återförenats för att vinna världens hjärta och hjärna!
Vi ses där!
_____________________________________________
This Friday, Wermlands has an incredible battle of the bands! We will have four bands on site who will all compete and then the audience will decide the winner!
Eyes Closed 
In early 2022 the Karlskrona duo consisting of Alvin Karlsson and Simon Thuresson started their latest project, Eyes Closed, recruiting Skellefteås Elias Sirvio and Malmös Carl Lindberg.
With its roots in bands such as blink-182, Neck Deep and Microwave, Eyes Closed kicks the audience into youthful rage and thrashing pop-punk with sonic waves of melancholy and raw energy. Is your black heart still broken from your emo phase? Eyes Closed are here to pick up the pieces, put on a fresh coat of paint on them and make them dance.
Nodus File
Hey! We are Nodus File, an indie rock band from Malmö. We're a young band playing energetic original songs with influences such as Pixies, the Strokes, Modest Mouse and Sonic Youth, as well as older classic rock. We recently put out our first single, "My Room", and more stuff is on the way. Thanks!!!
Utflykten
Utflykten is a unique gitarr driven indie-pop band that breathes Skåne soul and heart. There songs have unique melodies with energetic chorouses with inspirations from bands such as Weezer, Pavement and Hästpojken. 
This summer they will release their first full-length album – a dynamic and powerful creation produced in Skåne's basement rooms. Expect 90s guitars, multi-layered lyrics and 100 percent vibe
Nebula Nine
Skåne/Blekinge trio Nebula Nine is the band that captivates the audience with its big sound despite its small number of members. Each song takes the listener on a journey that is anything but predictable. The trio who in their youth got to know each other through music have reunited to win the hearts and minds of the world!
Se you there!
18+ and student id needed!